Cement Retained & Screw Retained Restorations
Cement retained:
This is the most common implant technique, which is created using either a prefabricated abutment or the use of a custom made abutment depending on the location of the fixture. The abutment is designed to get the optimal alignment for the implant crown within the patients arch. There are a number of options that can be used for the custom abutment, thus being cobalt chrome, titanium and zirconia. A crown or bridge is then designed to seat over the abutment depending on the requirements of the patient/dentist.
Screw Retained :
When the implant fixture is in a viable position to simply design a custom made implant crown or bridge direct into the implant fixture. This is determined as to the positioning of the fixture and is definitely a secure option.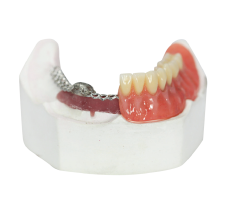 Removable Overdentures
All of our removable overdentures are fabricated using Locator abutments, premium teeth and injection moulded acrylic for added strength and aesthetics. They are an excellent solution for mandibular cases where there is sufficient alveolar ridge. They provide excellent retention for tissue-born prostheses.
Fixed Removable Overdentures
All of our fixed removable overdentures are fabricated using Locator abutments, premium teeth, injection moulded acrylic and precision milled implant bars. They are an outstanding solution for cases with heavy occlusal loads or minimal bone retention. They are an implant and tissue-born prosthesis which help to broaden occlusal forces across all implants.
Fixed Hybrid Dentures
Fixed hybrid dentures are most popular in the maxillary region and provide outstanding aesthetics. They are fabricated using premium teeth, injection moulded acrylic for strength and aesthetics and come with all the relevant hardware necessary for placement. The internal frameworks are milled from Titanium, CoCr or Zirconia using industrial technologies.
Full Arch Fixed Bridges
All our full arch fixed bridges are manufactured using the latest CAD / CAM solutions and custom abutment technology. We specialise in high end aesthetics and focus on gnatholgy to ensure long term stability and function. These restorations are available in zirconia or porcelain fused to metal.
"We Make Digital Dentistry Happen"
Book your consultation today!
Considering cosmetic treatment? Have a chat with us today. We provide the full range of cosmetic treatment options, so you can achieve the results you're looking for.