Key characteristics
Customised shades
10x microscope fit
Curves of Spee, Monson and Wilson
Internal Effects
Multi-Layered build
Choice of ceramist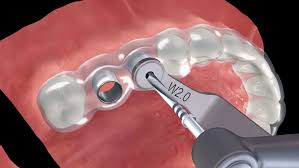 About Product
Surgeons Guides
RDL are fully trained to provide radiographic solutions to aid in the case planning procedures. With use of barium sulphate, gutta percha and metal insert balls we can provide all the necessary aids to ensure your implants are placed effectively and efficiently. Our surgeons guides can be made tooth or tissue-born to ensure stability during implant placement and can be manufactured to act as a space maintainer as well.
3D printing
takes the efficiencies of digital design to the production stage. By combining oral scanning, CAD/CAM design and 3D printing, dental labs can accurately and rapidly produce crowns, bridges, stone models and a range of orthodontic appliances.
Book your consultation today!
Considering cosmetic treatment? Have a chat with us today. We provide the full range of cosmetic treatment options, so you can achieve the results you're looking for.